| | |
| --- | --- |
| Publisher: | Sega |
| Hardware: | Naomi Cart |
| Year: | 2000 |
| Controls: | Touch Screen |
| Number of Players: | ? |
| Cartridge Image: | |
| Ported To: | N/A |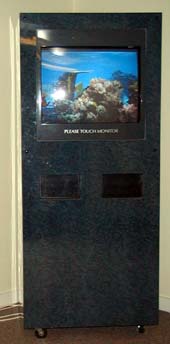 Description:
Exotic, vibrantly colored fish at your fingertips! Experience the calming, relaxing effect of the fish as they weave their way through the tranquil aquarium waters.
Take immense pleasure in looking, touching and talking to your fish.
Discover the high-tech solution to beating stress!
Time is valuable and how you spend it is important.
Raising your own fish in the Fish Life virtual aquarium allows you to take the time to relax.
With this hassle-free high-tech solution you can forget about feeding your fish, changing the water, and maintaining the aquarium. It's beautiful, easy and clean.
Touch the screen and an interesting change will take place: Feed drops into the tank, and the fish fry glow! You can even draw pictures freehand with your fingers! The fish follow the picture as it moves around the screen. This is a totally new and unique form of entertainment!
Calling into the screen brings a reaction from the fish. See the fish experience a full range of emotions: happiness, anger, sadness – it's super entertainment for everyone. If you say the name or species of the fish, the fish will appear on screen. Never-before-seen giant fish will also emerge from the depths!
(Description written by: unknown)